Well, I'm writing this having just watched the repeat / rerun of Saturday night's

'That Metal Show'

on

VH1 Classic

, that featured a few special guests including

Stryper's Michael Sweet

and former

Warrant

lead singer, a certain

Jani Lane

(RIP) and just looking at the guy on the show - That was recorded just a couple of weeks before he took his own life (or accidentally did) through mixing prescription drugs and vodka - I'm stunned. What's so weird, strange is you look at him and he looked and talked as if he was doing better than he had done for a while. So really, you just have to wonder what goes through peoples minds, as he'd just given himself the best promotion in years, which would only have done him good and then ... It's all over, gone ...
After 'That Metal Show' VH1 showed

'Hard Rock Calling,'

a concert from London's (UK) Hyde Park earlier this summer and the first band shown on there was
Bon Jovi.
Now many of my old mates back home will know that for years I was a huge fan of the band and constantly stood by what they did but there's been a few things in recent years for me that has turned me off the band for one reason or another.
Anyway, I thought I'd check this out though and Bon Jovi is the first band on 'this' show and they play

'It's My Life'

and I have to say, I loved the song originally but Jon struggles to go anywhere high on the song ... Sad. He's carried by the band.

'Blaze of Glory'

was better but I had already been disappointed. Ah well ...
Listen, have a good week folks, hope to get the

Alice Cooper

/

Ace Frehley

live review from here up at the site soon.
Thin Lizzy switch second lead player ..., again
(

Damon Johnson

... Looks a little like

Dave Grohl

to me ...?! - Photo )
Whitesnake to play some special Christmas UK shows
Update from
Whitesnake
as the road trip rolls on ...
New shows for the 2011

"Forevermore"

Whitesnake

tour schedule are being added. We are calling this portion of the tour the "Have Yourselves A Merry Whitesnake Christmas" shows. It includes just a few select venues that the band could fit in before the holidays. These shows have been announced on the

Whitesnake site

and a few more will be added in the coming days.
Grand Illusion to release 'Prince of Paupers,' in October 2011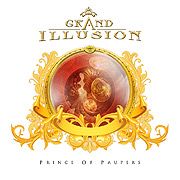 AOR Heaven to release Grand Illusion - Prince of Paupers
The release of

'Brand New World'

in 2010 and all the positive response the album gained, was fuel for more song writing and only a couple of weeks after the Brand New World release, the first new songs were written. It only took a three months to come up with 15 songs and in August 2010

Anders Rydholm, Peter Sundell

and

Per Svensson

took off to Sherman Oaks in Los Angeles, to record with Gregg Bissonette (David Lee Roth, Spinal Tap, Ringo Starr), Steve Lukather (Toto), Jay Graydon (Airplay, Manhattan Transfer, Air Supply) and Tim Pierce (Rick Springfield, Micheal Jackson, Phil Collins). A big moment for the GI boys to record with so many of their musical heroes.
Later on also legendary arranger/conductor

Paul Buckmaster (Elton John, David Bowie, Judie Tzuke)

helped out with an orchestral arrangment for the song

'Gates of Fire'

and the Bosnian guitar wizard

Muris Varajic

did solos for 5 songs. Muris is a big musical injection for the band and he also joined us for a live gig in August 2011.

Robert Säll

from

Work of Art

and

W.E.T.

also did a solo for the Japanese bonus track

'Not For Sale.'
We would also like to introduce

Staffan Stavert

to you. He is now the new keyboard player in our "live Grand Illusion band". On this album Staffan plays keyboards on two songs.

Kjell Klaesson

is as usual helping us with acoustic guitar.
Arlene Matza-Jackson

has helped out writing most of the lyrics and the music is as always written by Anders Rydholm.
Firefest 2010

The band also did a couple of live gigs during 2010 and the big highlight of the year was the

Firefest

appearance in October in Nottingham, UK. Grand Illusion kicked off the festival and the boys were thrilled to play in front of such a devoted croud. During the rehearsals for Firefest, lead singer Peter Sundell caught Lumonia(?) - Ed's note: I think they mean Pneumonia - and he had to struggle hard to be able to sing at all and after the show he totally lost his voice. It took more than three months before Peter was back to normal and the recordings for Prince of Paupers could continue.
The album will be released October 19 in Japan through

Marquee/Avalon

and through

AOR Heaven

on October 29th in Europe.
Music: Anders Rydholm
Lyrics: Arlene Matza-Jackson, Anders Rydholm
Musicians
Anders Rydholm - keyboards, bass, rhythm guitars
Peter Sundell - lead and background vocals
Per Svensson - lead and background vocals
Gregg Bissonette - drums
Steve Lukather - guitar solo on 4
Jay Graydon - guitar solo on 2
Tim Pierce - rhythm guitars and guitar solos on 5, 6, 8, 9,10, 12
Muris Varajic- guitar solo on 1, 3, 7, 9, 11
Robert Säll - guitar solo on 13
Paul Buckmaster - orchestral arrangmentrs and synths on 1
Kjell Klaesson - acoustic guitar on 9
Staffan Stavert - keyboards on 10, 13
Produced and arranged by: Anders Rydholm
Orchestral arrangement for Gates of Fire by:
Paul Buckmaster


Recorded and mixed in GodisPåScen studio, Växjö, Sweden 2010 - 2011 by Anders Rydholm. Drums recorded in Woodcliff studios, Sherman Oaks, USA, by Frank Rosato. Guitar solos recorded by Tim Pierce, Jay Graydon, Muris Varajic, Robert Säll.
Mastered by Frank Rosato
Graphics by:
Carl André Beckston (MonoWasp) Photos:
Sune Ekstrand
ROCK BAND KANSAS CONTINUES WITH '2011 COLLEGIATE SYMPHONY TOUR' TO
RAISE FUNDS FOR COLLEGE MUSIC PROGRAMS
TOUR PRESENTED BY D'ADDARIO & COMPANY
After the groundbreaking and universally successful 2010

KANSAS Collegiate Symphony Tour

, legendary rock band

KANSAS

is not only continuing, but expanding the tour for the fall of 2011.
The 2011 KANSAS Collegiate Symphony Tour will again to help raise funds and awareness for college and university music programs.
Confirmed 'KANSAS Collegiate Symphony Tour' dates and venues, with more to be added:
September 24, 2011 (Tickets On Sale August 6, 2011)
Houghton College (Wesley Chapel - Houghton, NY)

September 25, 2011 (Tickets On Sale Now)
Rochester Institute of Technology (Main Street Armory– Rochester, NY)

September 30, 2011 (Tickets On Sale Now)
Kennesaw State University (Cobb Energy Center – Atlanta, GA)

October 1, 2011 (Tickets On Sale Now)
Columbus State University (The RiverCenter for the Performing Arts – Columbus, GA)

October 7, 2011 (Tickets On Sale August 5, 2011)
James Madison University (JMU Convocation Center - Harrisonburg, VA)

October 14, 2011 (Tickets On Sale August 13, 2011)
Augustana College (Washington Pavilion Arts Center – Sioux Falls, SD)

October 15, 2011 (Tickets On Sale August 23, 2011)
Northern Illinois University (NIU Convocation Center – DeKalb, IL)

October 20, 2011 (Tickets On Sale Now)
Appalachian State University (Farthing Auditorium – Boone, NC)

November 5, 2011 (Tickets On Sale Now)
University of Central Florida (The Venue at UCF Arena– Orlando, FL)
FOR MORE INFORMATION, VISIT:
Sebastian Bach loses so much in East coast storms
Well, it's not just regular folks that have been feeling the pain from the massive storms and knock on effect of Hurricane Irene. Former
Skid Row
frontman,
Sebastian Bach
has poured out through his
Facebook
page, just how devastated he is at how the storm destroyed his home and take away so many of his personal belongings ...
He's also posted photo's of the damage there too.
Read on ...