Styx / Ted Nugent live review at DTE Energy Music Theatre, Clarkston, MI
Well, this is where I turn the reviewing over for a day, to a guest reviewer.
Yes, a good friend of ours,

LeeAnn Hoffman

, kindly volunteered to review the recent show featuring

REO Speedwagon

- Yes, they were there too, but as you'll learn, our guest reviewer did not arrive on the venue site until late ... Read on ... -

Styx

and

Ted Nugent

at the venue just north of Detroit in Clarkston, Michigan, affectionately known by locals and artists alike, as Pine Knob.
Sadly it had its name changed back in 2001 by the big old corporation that is

DTE Energy

, to the DTE Energy Music Theatre, but to all locals, everyone calls it Pine Knob!
LeeAnn's friend

Laura

that attended the show with her, took a few pictures ..., but hadn't got these to our reviewer at the time this review went live, but she sent them to me last night. Sadly, they are a little limited, but you can see how packed the place was! Laura also helped with remembering some of the song titles!
You can always go to each artist's website - Links at the bottom - to see some pictures from the whole

'Mid-West Rock 'n' Roll Express Tour'

for yourself. :)
So here you go, a new live gig review thanks again to guest reviewer LeeAnn Hoffman and friend Laura for pic's!
Well, by the time we arrived at Pine Knob or DTE as it's now called, we all STILL call it Pine Knob! Anyway, we only got to catch three songs from tonight's opener, R.E.O. Speedwagon, after being stuck in crazy traffic for ages as it backed up so, so bad.
It was 7:40pm and they were midstream with

'Time For Me To Fly,'

then

'Keep on Lovin' You'

followed and finally

'Riding The Storm Out'

clearly though the crowd enjoyed it, so we missed out.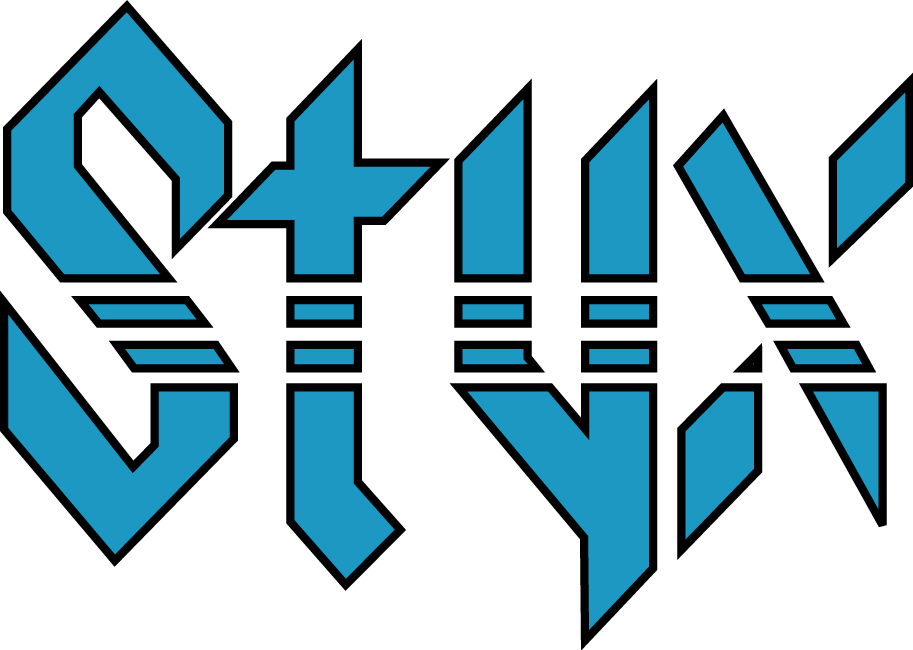 Styx hit the stage at around 8:20pm and opened their set with

'Blue Collar Man.'
Great excitement even though the temperature this evening was over 95°F and the air was still ..., phew!
The band certainly got the lawn crowd up on their feet. Great sound, vocals so clear and stunning visuals on big screens.
'Grand Illusion'

next and the lead guitar sound is crystal clear. Drums rocked too!
Close up views on the overhead screens reveal that they haven't aged at all … Ahem …Still very hot as the women around scream in delight with every close up.
Ed's note:
Alright … Ease up here, there's a mixed crowd reading this ….! ;-)
After this

Tommy Shaw, James JY Young

and

Ricky Phillips

get jamming together at the front of the stage to end the song. Then the comment is made that they have a lot of work to do to beat REO's performance and they're off to the next song.
'Too Much Time On My Hands'

is next and the ending is always a crowd pleaser as the sound fades off and we are all left whispering along with the band, "Too much, time on our hands …'
The screen shows the video of the song with all the clocks and visual effects and it looks spectacular!
Tommy Shaw addresses the crowd and tells us how important it was to be back in Michigan, since he lived here for ten years.
The best thing about the long winters and short hot summers was having a good basement to jam in!
Thanks to the

Panozzo

brother's basement, it's where we first came together and started forming Styx.

John

may be gone - Never forgotten! - but

Chuck

is still with us on bass!'
'Fooling Yourself (The Angry Young Man)'

is next up and the crowd is singing along and there was no "fooling ourselves" with that one. It certainly got the crowd up on their feet.
"GET UP" and "COME ON" in huge letters were displayed on the screen and the crowd did just that, shouting the words out loud and proud!
The keyboard solo from

Lawrence Gowan

on this was great to see and hear! To play one handed, behind his back to the audience, with a brilliant show of skillful energy and fun. What a sight to see a keyboard player move so much. His high energy was undeniably a thrill to see.
Then it's

'Miss America,'

with JY taking the lead vocals. Great visual effects, not to mention the Statue of Liberty was the centre of attention along with the silhouettes' of beautiful women dancing and rocking to the beat.
Then the crowd was challenged with a bit of a lyrical sing-along to

The Who's

'Pinball Wizard'

and then

Queen's

'Fat Bottom Girls'

and that led straight into the great

'Come Sail Away'

featuring a drum solo from

Todd Sucherman

that was as rocking as the keys in this song.
No doubt how impressive the visual effects on the screen of the earth, satellites, space stations and rockets were to the crowd. It left us in awe the way it was formatted specifically for the song to close the main set.
The band then all gather center stage, take their bows and they leave the stage briefly and come back out for an encore of

'Rocking the Paradise.'

It rocked out with great volume and clarity.
Finally to

'Renegade'

to close the set and it was still going on 9:30pm and the ending solo of the lead guitar was crisp, clear, and right what the crowd wanted.
Totally fulfilling entertainment by them with a multi song, medley encore too!
Ted Nugent takes the stage at 9:42pm and opens with

'Gonzo'

and there's great energy from the crowd.
The lawn is full even though a lot of people have left. The die hard rock and rollers are still here though. It's surprising to see so many younger fans singing the lyrics alongside what could be their parents or grandparents. A lot of camouflage clothing in this crowd … The hunters are in!
Next it's

'Just what the Doctor Ordered'

and it is certainly giving us an overdose of Rock and Roll!
'Wango Tango'

is up next and it totally rocks!
Those that were sitting down are now on their feet.
The lead solo is spectacular, this is great, it's a 'Rock and Roll sensation!'
Ted goes into another bluesy guitar solo, for

'Turn it Up'

as he tells his band to "turn it up, turn it loud as hell!" This leads into

'Free for All'

and now the crowd is totally into the show!
What an awesome sound! Ted is wild and crazy as he struts from one side of the stage to the other, then laying his head back, tongue out, eyes closed and just jamming!
Next is

'Stormtroopin''

and at the end of the song, Ted introduces his bass player / vocalist

Derek St. Holmes, Greg Smith

(Guitars / vocals) and on drums

'Wild' Mick Brown (Dokken).
Ted talks to the audience and tells us he is from Redford, MI. Speaking about his home town and love of Michigan and the great outdoors.
'Wang Dang Sweet Poontang'

is introduced and some sweet guitars playing together and rolls into some more bluesy guitar riffs.


'Live it Up'

next and the audience is singing along and most certainly 'living it up' to the song title, even though it is still about 90 degrees out. Seriously humid!

Ted gives us

'Hey Baby'

next, before a long lead guitar intro for

'Fred Bear.'

Ted is playing his Zebra striped guitar, loving it and shares that, 'This totally cleanses the soul!'
It's

'Cat Scratch Fever'

time and Ted addresses the audience with some political banter …, saying that 'We American's need to take back our government.' This gets a huge response of total agreement from the audience with 'Yeah!'
Fists are pumping the air and it is a good indication of how unhappy we the people really are with the state of our nation ….



'Stranglehold'

is crisp and clear to close the evening and Ted has totally rocked the motor city!
He is the motor city madman! He speaks to the audience telling us to give thanks to our service men and women of the Coast Guard, Navy, Air Force, Army and the US Marine Corp.
He says he is very proud to be a Michigander and that it is the spirit of the wild that keeps him going.
He once again introduces his band members and the show is over.
I was not able to hear much more of what he said, over the roar of the crowd!
Even from the top of the hill my ears are ringing from how loud this show was.
Clearly this concert rocked and you could see Ted has a mixed age group of followers, still interested in seeing Uncle Ted rock!
I saw him in the mid 80's on tour with

Aerosmith

for the first time and hopefully will not be missing another one of his concerts. He still mentions his gratefulness to his beautiful wife

Shemane

and gives her credit for putting up with him even to this day.
A great night, great show and boy was that rock 'n' roll!
Official weblinks: